After reading and watching the slow-motion train wreck that was the Lane Kiffin departure from the University of Tennessee... and the ensuing search for a replacement, Coach Wyatt summed it up better than anything else I've seen.
The following is from the excellent football website,
www.coachwyatt.com
, in the "News You Can Use" section...
If you don't visit his site at least twice a week, you're missing out!
--------www.coachwyatt.com--------www.coachwyatt.com--------www.coachwyatt.com-------
FRIDAY, JANUARY 15, 2010- "Never interrupt your opponent when he's destroying himself."Paul Begala, Clinton advisor
(This quote seemed so appropriate to Lane Kiffin's grand arrival on the Pac-10 scene that it had to be carried over.)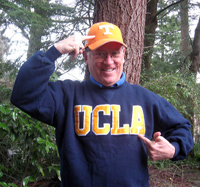 Two of my newest favorites
(plus anybody who's playing USC)
*********** Well.
Now that Lane Kiffin has taken the latest Dream Job on his rapid ascent to Wherever He's Headed, I can resume liking Tennessee and hating USC.
I couldn't root for anybody coached by that a**hole Kiffin, and it really was hard to dislike Pete Carroll.
But now? Bring out my UT hat and my UCLA sweatshirt!
Did you catch the self-congratulatory way Kiffin described his hiring as a "perfect fit?" Actually, he didn't realize how spot-on he was: out here on the West Coast, USC is short for University of Spoiled Children. Kiffin and USC? Perfect fit.
Despite Kiffin's vaunted ability to recruit, his hiring is not exactly striking fear among Pac-10 rivals. In fact, between the likelihood of NCAA sanctions and his yet-to-be-demonstrated ability to actually coach, Kiffin's arrival at USC has the potential of increasing the job security of every other coach in the Pac-10, not the least of whom is just across town - Rick Neuheisel.
So detestable is Kiffin that he makes Neuheisel downright likable, not to mention trustworthy and loyal. And unlike Urban Meyer, who chose not to return Kiffin's fire, Neuheisel will fight back. It won't take long for loudmouth Lane to discover that Slick Rick is a pretty handy guy with the jab himself.
Oh, and by the way - with Kiffin's loss to UCLA this past season, he's already 0-1 against Neuheisel. So go Vols! Go Bruins!
And Go Beavers! Go Cardinal! Go Cougars! Go Ducks! Go Golden Bears! Go Huskies! Go Sun Devils! Go Wildcats! Go anybodythat plays USC! (Yes, even Notre Dame!)
Beat Kiffin.
--------www.coachwyatt.com--------www.coachwyatt.com--------www.coachwyatt.com-------
I told ya Hugh was the man...
Coach Smith