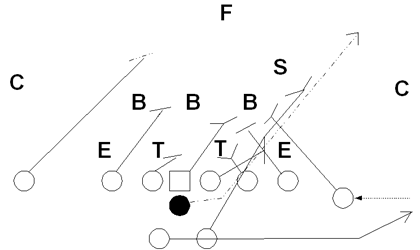 Well, first, let me rename this play as the "former" Nebraska G Option. The new and "improved" Nebraska wouldn't think of running such a "rudimentary" play, I'm sure. Well, the new and improved Nebraska lost to an unranked team this week... I bet by the end of this season good ol' 9-2 Solitch will start lookin' good to the Nebraska faithful. ...Fire a coach after a 9-2 season. They oughtta lose. Just make sure you send moving vans to the genius A.D. that started all this mess, too, Nebraska fans. Don't forget him!
Well, enough of that. Here is the (former) Nebraska G-Option Eric Couch ran so well. It really isn't an option. It's a QB keeper with the initial look of an option... makes the D account for the option.... notice how the pitch back will suck the CB out of the play in order to contain the pitch which isn't coming. I got this play from the Neb - Colorado game a few years back. Neb ran it from the "I" but it should work just as well from splitbacks. Anyway, its uses wing T "G" or "Down" blocking... which I like since it gives me angle blocking at the point of attack. The Z motions in or aligns tighter (a wing, perhaps?) so he can seal inside.
Coach Smith
Below is the play diagram versus a balanced 52 "Cloud" defense.