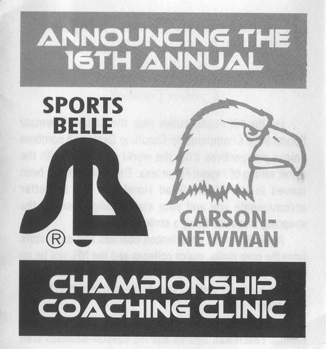 2005 Carson Newman - Sports Belle Clinic
March 4 - March 6, 2005
Music Road Hotel & Inn
Pigeon forge, Tennessee
After looking all over Carson Newman's website for clinic info for weeks, I got the flyer for thier 2005 clinic today in the mail... go figure!
I'm posting links to the flyer below. I had to cut it into sections and reduce the resolution a bit, but it should print out okay... the registration info is really the only part you would need to print, actually. File size limitations at my freebie image hosting site forced the cut-and -paste approach, unfortunately!
When I find the link to the actual PDF file, I'll be sure to post a link to it.
Coach Smith